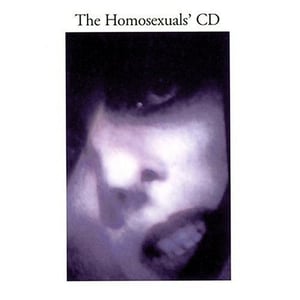 £

9.99 - On Sale
THE HOMOSEXUALS
Read Pitchfork's 8.0 of the 3CD box-set Astral Glamour*... "As David Berman put it, "Punk rock died when the first kid said/ 'Punk's not dead.'" Maybe so, but as limb after limb is plucked from the wreckage, it's leaving behind one exquisite corpse. The three-plus hours of material ranging over Astral Glamour unites The Homosexuals' fragmentary oeuvre to reveal them as punk visionaries who were at least as questing, untamed, and ultimately listenable as any of their more renowned contemporaries. This is the sound of history revising itself toward perfection."
"The Homosexuals were, by all accounts, one of those late-1970s UK garage-punk bands that deserved to reach a wider audience alongside icons like the Sex Pistols, the Clash, and all the rest."
-Marc Hogan, Pitchfork
"I just had the closest thing to a religious experience since my bar mitzvah... The Homosexuals played the most dynamic, explosive set I've seen in a couple years."
-The Washington Post
Read Pitchfork's 8.4 review of The Homosexuals CD..."I'd say these guys would have given any of the big post-punk bands a run for their money in terms of both songwriting (the impact of these songs is almost impossible to deny) and sheer diversity. "
"Simply put, one of the most flawlessly great British punk/post-punk bands."
-WFMU
*Available free with each downloaded copy of the new e.p. ''Important If True''