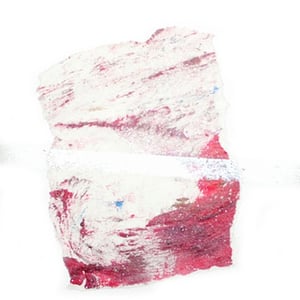 £

20.00 - On Sale
Collection of new and unreleased tracks from The Homosexuals recorded in New York City between 2008 and 2009. Written on 15 May 2016!!! What does this all mean?!
Each cover is a unique fragment of a large performance artwork painted by ''Genius Casanova'' at Rubulaad in Brooklyn 2009. As such each cover is truly unique and limited. When the last fragment of the painting has been assigned to ''Important If True'' there will be no more! This stunning collaboration between ''Genius Casanova'' and ''The Homosexuals'' not only re-affirms the band as initiators and proponents of D.I.Y. but also as patrons of brilliant young artists who are destined to articulate the dreams and aspirations of their generation. See separate listing for a t-shirt of the whole painting which of course does not exist anymore!
1. Pentecost 2016 02:06

2. 3AM (Pink Pony) 04:15

3. Slow Guns 02:54

4. 17 01:17

5. Don't Touch My Hair 04:10

6. Snapshots Of Nairobi 02:18

7. Fay Gash 01:25

8. In Search Of The Perfect Baby 05:34

9. Fanfare 01:08

All songs written by Bruno Wizard, except "Pentecost 2016" and "Snapshots of Nairobi" co-written with Anton Hayman. Backing vocals by the uniquely gifted Verushka and Neon Music on "Don't Touch My Hair" Cover art by Genius Casanova.